AT AMERICAN APPAREL HQ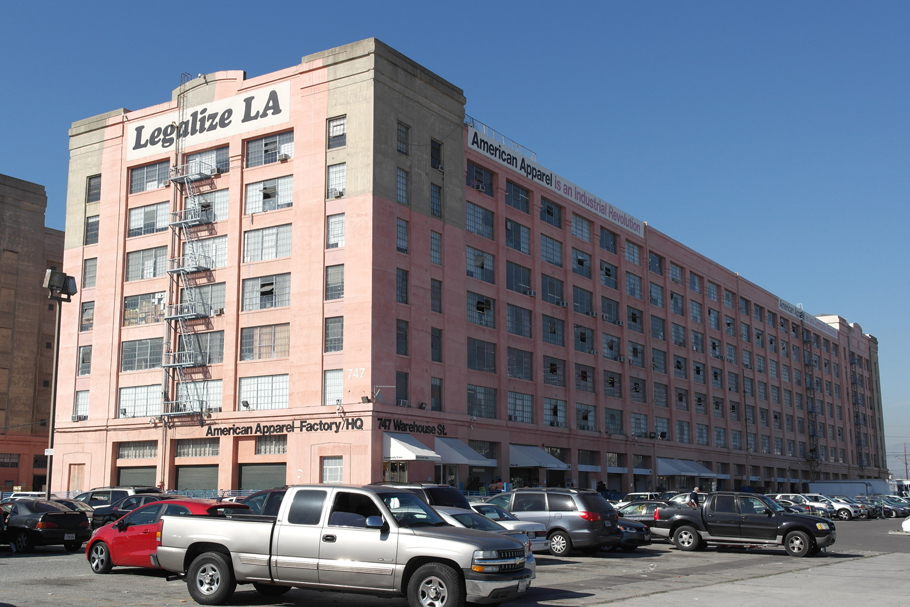 De geplooide maxi-rok, de transparante blouse, de high waisted pantalon en de felgekleurde beanie; stuk voor stuk trenditems waarmee American Apparel een absolute modehit scoorde. Om te zien hoe deze kledingstukken gemaakt worden en omdat ik erg nieuwsgierig was naar het bedrijf achter de provocerende reclamecampagnes ging ik vandaag daarom op bezoek bij het hoofdkantoor van American Apparel in Los Angeles. Een bijzondere middag met een rondleiding door de fabriek, een interview met een van de creative designers en een bezoekje aan de LA flea market van het merk. Een uitgebreid foto report en het uitgewerkte interview verschijnen binnenkort online. Hierbij alvast een kiekje van de buitenkant van het American Apparel hoofdkantoor in Downtown Los Angeles.
The pleated skirt, the sheer blouse, the high waisted pants and the bright colored beanie; all fashion pieces by American Apparel that have been a huge trend over the last year. To find out how these pieces are made and to learn more about the brand behind the provocative advertisements I went to visit the American Apparel HQ today. I got a tour through the factory, had an interview with one of the brand's creative designers and got to see the LA flea market; quite an inspiring afternoon. My full photo report and my interview will appear online soon. For now.. here's a pic of the outside of the American Apparel HQ in Downtown Los Angeles.
Photo: Tessted
---